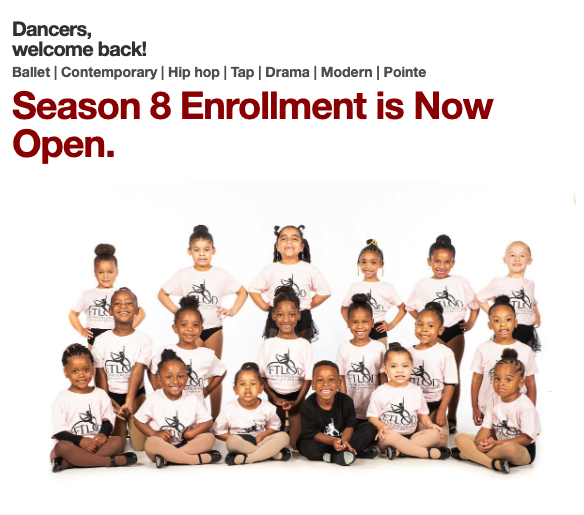 07 Aug

Season 2019-2020 Enrollment is Now Open!
Dancers,
welcome back!
Ballet | Contemporary | Hip hop | Tap | Drama | Modern | Pointe
Why choose FTLOD?
FTLOD is a comprehensive dance school program with an intense focus on leadership development through the Arts. We promote discipline and confidence along with dance excellence.
– Register now for our 2019-2020 dance season!
– Note: Our schedule is being updated to accommodate additional dancers and classes. Stay tuned for updates.
– Refer a Friend and save 10% OFF your starting month of tuition. Just mention your referral!
– Family discounts are available to multiple family member sign-ups. Please see details online.
-Need to pick up your DVD or photos? In August, we will be in the studio at the front desk, Sundays only from 2 PM- 3:15 PM. Parent questions and/or order pick-ups are encouraged then. Please call ahead to be sure we have your item in stock.