17 Apr

Tickets On Sale Now… DYHO3!

Join us for a very special event and dedication show. This event will take place at the Greater Columbus Convention Center Saturday, June 26th 2021. It will be in the Union Station Ballroom.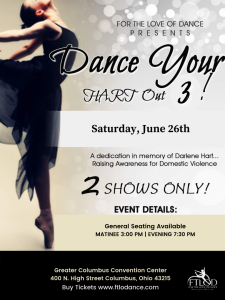 Join us for our 10th annual production, Dance Your HART Out 3!
When: Saturday, 6/26th at the Greater Columbus Convention Center!
Description: An artistic expression of dance arts, in effort to raise awareness for
Domestic Violence issues.
Matinee: 3:00 PM
Evening: 7:30 PM
PRE SALE Tickets: $13 Youth | $17 Adult
*Limited seating is available. COVID-19 Restrictions and Rules apply.
Dance Your HART Out 3 raises awareness for Women and Domestic Violence. We couple together a stage play with dance arts. Ballet, tap, hip hop and modern are highlights in this production. Join us as we depict the signs that are so often overlooked and not considered. It is important to shine a light on the issues that continue to plague our communities.  Resources will be made available to audience members, allowing them to know their options if they know someone experiencing this abuse. Join us for one night only. We seek to raise awareness, enlighten and encourage.
We are fundamentally built on women and domestic violence. In 2012 For The Love of Dance was birthed for the purposes of inspiring the merging of leadership and the arts. Every 4 years FTLOD brings its debut show, Dance Your HART Out back to honor domestic violence victims. Inspired by Darlene Hart, a phenomenal prima ballerina and Columbus, Ohio Native who lost her life in 2012 from a domestic violence dispute. 
PLEASE READ*
We are following strict social distancing guidelines and taking additional precautionary measures. If you are exhibiting signs of fatigue or illness, please refrain from attending.
LEARN MORE* below about how our partners at the GCCC are helping to slow the spread. Please be informed!
https://columbusconventions.com/about/coronavirus-information/
COVID – 19 SAFETY PROCEDURES*
• Temperature checks for all attendees
• Sanitize hands at the door
• No Mask /NO Entry (Please wear a mask over your nose to be permitted in, no exceptions).
• Once seated, guests must remain seated until intermission (unless otherwise an emergency).
• Guests will be seated 6ft a part in groups of 5.
VENUE | PARKING | OTHER
Venue: Union Station Ballroom
Nearest Parking | Vine Street Garage 37 Vine Street Columbus, Ohio 43215 is the best point of access. 
Directions for Parking: For parking closest to the venue and event space, please visit here in advance. We recommend you familiarize yourself with these directions in advance.
Please Read carefully –
https://columbusconventions.com/park/directions-and-parking/
Other:
Doors open 30 minutes prior to each show.  
Have additional questions for our team? Email us here info@ftlodance.com
SPECIAL THANKS
These times are unprecedented! Special thanks to our partners and sponsors for this event: The Greater Columbus Convention Center, Mills James and Levy Restaurant. We thank you for your support in understanding our mission of raising awareness for key social issues. By supporting our cause, you also help us to shine a light on the growing opioid crisis, social injustices, domestic violence awareness, youth anti bullying & many other important topics. Learn More about our mission and community give back program here – https://ftlodance.com/community/